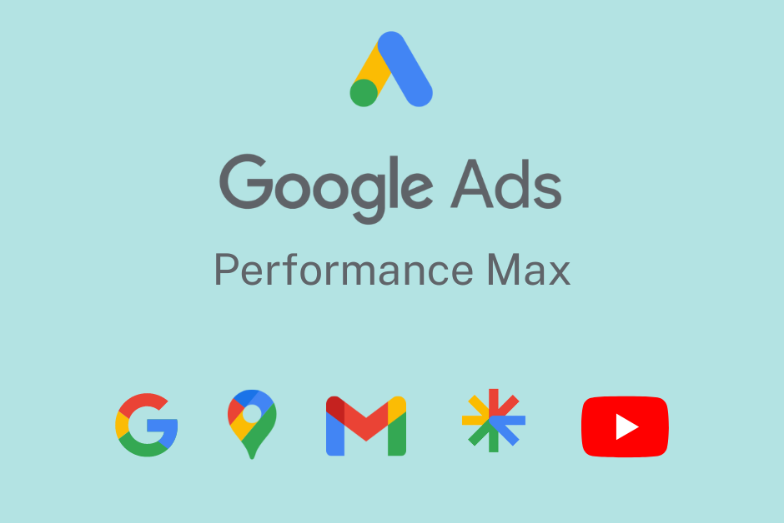 August 2, 2022
The goliath that is Google has been beta-testing, teasing, and promoting their newest digital campaign type, Google Performance Max (GPM).
Rumors of GPM started murmuring in late 2020, and officially went live in November 2021. During their 2022 Google Marketing Live event this past May, I watched in awe as almost every keynote speaker from Google mentioned GPM in some capacity. I got the hint, and I'm excited to pass along all my Performance Max knowledge from my brain to yours. Let's dive into the deep end – I'll be your guide.


What is Google Performance Max?
Google Performance Max is an all-new, goal-based campaign type that allows advertisers to access all the goodies in the Google Ads inventory into a
single
campaign. Consolidating your classic Google Responsive Search, Display, and Video assets into one. GPM is designed to complement your keyword-based search campaigns to assist in finding more eager and converting customers across all of Google's channels. (e.g., YouTube, Display, Search, Discover, Google Maps, and Gmail).


Why Should I Care?
In the words of John F. Kennedy, "Every accomplishment starts with the decision to try". GPM is groundbreaking in terms of user reach, as there is no place this ad type does not reach. Spooky but awesome as a digital native. Two questions marketing teams should consider - why run a digital campaign that only reaches some of an audience? Why not
maximize
where your financial institution's digital ads are being shown daily?
As I mentioned earlier, GPM shows ads on the following: Google Search Network, Display Network, YouTube, Gmail (in the form of closed and opened email ads), Google Maps, and Google Discover. For those who are not familiar with Google Discover, this allows you to receive updates on your interests, like your favorite sports team or news site, without searching for them. You can choose the types of updates you want to see in Discover in the Google app or when you're browsing the web on your phone.
GPM also has some pretty in-depth and niche features. These including unlocking new audiences across Google's channels and networks, driving stronger performance against your goals, receiving more transparent insights, the ability to steer automation with campaign inputs, and simplifying campaign management, all while easily optimizing ads.
Moreover, it's all about conversions. A conversion is an action that is counted when someone interacts with your ad, (for example, clicks a text ad or views a video ad) and then takes an action that you've defined as valuable to your financial institution, such as a loan application or a call to one of your branches or banking centers from a mobile phone. GPM delivers more conversions and value by optimizing performance in real-time and across channels using Smart Bidding based on specified conversion goals. It also combines Google's Automation technologies across bidding, budget optimization, audiences, creatives, attribution, and more. GPM is powered by your specific advertising objective, and the creative assets, audience signals, and optional data feeds provided. Conversions are the goals set for a campaign's effort.


How Does This Thing Work?
It's simple, especially if you already have the assets on hand. Consolidating those assets into one campaign, even with the same budget, is a breeze. Here's the toolbox of what Google requires to run a successful effort:

1. A maximum of 5 short headlines, 5 long headlines, and 5 descriptions BUT a minimum of 3 for each is okay.
2. Your financial institution name. Should be easy enough!
3. Up to a maximum of 20 landscape images, 20 square images, up to 20 portrait images - however this is not necessary, 2 of each will work. A maximum of 5 logos, a minimum of 1. A landscape logo is also allowed, but not necessary.
4. Finally, a YouTube video; a minimum of 1 is best practice, however, a video isn't necessary. Caveat: performance will be impacted negatively without one.
Giving Google as many assets as possible will allow for your digital campaign to be shown in more places and reduce creative fatigue, as more assets equal different ads that Google's artificial intelligence (AI) can create and serve to consumers.


How Do You Know GPM Works?
Because I'm a professional. Just kidding, not really, but I'm glad you asked. In testing the first GPM campaign, Pannos leveraged a client's existing mortgage campaign. The assets were already created and included the following ad types: Responsive SEM, Responsive Display images and copy as well as 2 YouTube videos for 3 separate ad groups. These ad groups include General Mortgage messaging, Refinance messaging and First-Time Homebuyer messaging. These assets are identical to what ran the month prior, only consolidated into the single GPM ad type for July, budgets were also identical. In analyzing performance, Pannos wanted to see a full week of running GPM (July 1st-July 8th) versus the individual efforts for the first week of June (1st-8th). The performance breakdown is below:



What does this all mean?
Even as this ad type is in its infant stage, there is no denying it's worth at least testing against an already active campaign, especially if the assets are already on hand. Things like your budget, creative, targeting, and goal(s) can stay the same, but do not be surprised if performance is to the max (pun intended). Google has catered towards Responsive ads versus the classic HTML for Display and the recently sunset Expanded Text ads in the past and now it's catering GPM campaigns over Responsive. Whether you're ready or not, GPM is going to be in your future. It's time to test the waters even if you have to throw the floaties on. I'll be happy to be the lifeguard.