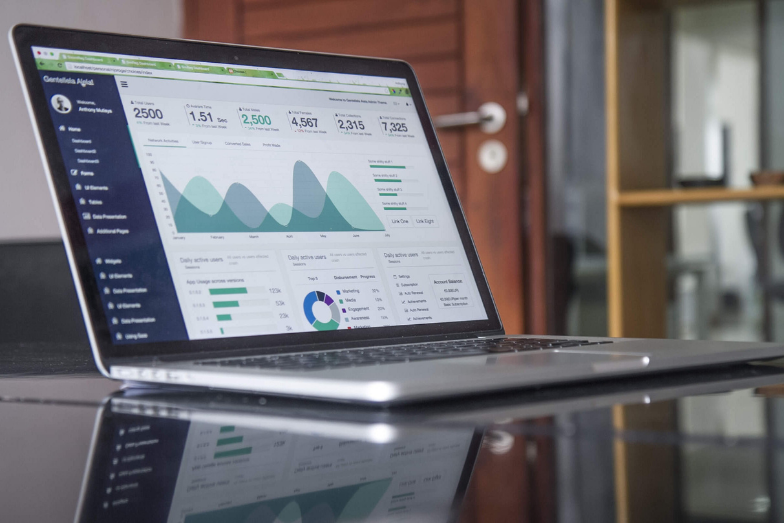 September 30, 2021
It is no longer just a matter of asking how many people visited your website. With today's comprehensive website performance analytics, you can dive deeper into how your website is performing and understand the trends behind your visitors' activity.
Website traffic is one of the main indicators that your brand and services are performing well in the eyes of consumers. But you may be asking yourself, what is considered 'good' website traffic? We are here to help! This report will reference four main Google Analytic metrics that help us understand valuable traffic: Returning Users, New Users, Sessions and Bounce Rate. Let's break them down:
Returning Users refers to web users who have visited your website previously, this is detected and tracked with browser cookies. If a user deletes their cookies, they will be counted as a New User.

A New User is someone who has never visited your website (according to cookie collection).

A Session is defined when a user interacts with your website over a given time frame. One session can have multiple page views and events, but after 30 minutes of inactivity the session will expire.

Bounce Rate calculates when a user visits any single page on your site, and then exits prior to triggering any other requests - the users are 'bouncing' off your site without having more than one single engagement. Bounce rate will change depending on your industry and the type of content you have on your site. A high bounce rate does not necessarily mean you have a 'bad site', it can often show that your landing page has enough valuable information to suit your users' needs within one click.
These four metrics can be used to understand the performance quality of your website, the performance of your campaigns driving them to your site, and your performance within Google's search engines. The four metrics mentioned above will be viewed within the scope of seven different traffic channels: Direct, Organic Search, Referral, Other, Paid Search, Social, Display, or Email traffic. The purpose of this data is to help your brand understand how much traffic should be coming (on average) from these seven sources.
The first traffic channel we will dive into is Direct Traffic. Direct Traffic is counted when a user arrives to your website by typing in your exact URL or using a browser bookmark. Direct traffic data can be used to show how many users have already heard of or have known about your brand & website. The following is the breakdown of Key Performance Indicators (KPIs) for Direct Traffic:
45% Returning Users

​If your Returning User traffic drops below 35% this may show that your user retention is not very strong. Contrastingly, having too high of a Returning User rate for Direct Traffic may show your paid and organic efforts are not impactful enough.

48% New Users
44% of Sessions
Average Bounce Rate range - 45% - 74%.
Organic Search Traffic can be defined as the traffic that comes to your site from unpaid search results (not paid ads). These results are 100% based on the keywords the user searched and Google's relevance ranking algorithm. Meaning, if someone typed in 'XYZ Bank' into a search bar, Google's algorithm will match that search term with the closest match, and ideally, XYZ Bank will show up in the first unpaid search spot. This data is used to understand how relevant your keywords & metadata are in order to drive users to your site. The following is the breakdown of KPIs for Organic Search Traffic:
38% Returning Users
​38% New Users
38% of Sessions

If the average is below 30%, it may be time to evaluate your search engine optimization strategy.

Average Bounce Rate range - 40% - 68%
Referral Traffic is created when another website has your URL linked within their site. For example, if a blog site has a list of best websites to visit for banking and your website URL is listed, a user can click on that to be brought to your site - that traffic would be considered Referral Traffic. Having referral links can be beneficial for search engine optimization purposes but be sure to confirm the validity of the sources that your Referral Traffic is coming from - as you don't want your users to feel confused or misled if not directed properly.
8% Returning Users

Users have already built a comfortable relationship with your website

4% New Users
14% of Sessions
Average Bounce Rate Range 45% - 75%.

If your Bounce Rate is very high, be sure to review the websites your referral links are coming from - they may be giving users misleading information.
Other Traffic is, simply, web traffic from a source that is not recognized within Google's list of sources. This can be paid media that Google does not recognize, or any other miscellaneous traffic.
5% Returning Users
5% New Users
3% of Sessions
Average Other Traffic Bounce Rate range 50% - 70%.
Paid Search Traffic refers to user traffic created from paid advertising within a search engine, for example Google SEM ads. This traffic is beneficial to understanding how successful a text campaign was, but on average, this traffic is much lower than Direct or Organic Search traffic. This is not only due to the competitive paid search space, but also the hesitancy of FIs to step into digital marketing.
2% of Returning Users
3% of New Users
1.2% of Sessions
On average, a 54% Bounce Rate
Social Traffic is from users who arrive to your website from links on social media networks and platforms. For example, if a user clicked on a link within a brand's Facebook posts and are brought directly to the website, that is considered Social Traffic.
1.3% for Returning users
1.4% of new users
.5% of all web Sessions.
Average Bounce Rate from Social Traffic averages 65%, but a suitable range can be between 50% to 70%.
Display Traffic is traffic that comes from Google Display Ads, Google Remarketing Ads, YouTube and more! While this content is often visually appealing, the traffic from these mediums is limited. Although this medium may not be the best for driving traffic to your site or retaining users, it is a great resource for getting your brand out into the view of the public.
2% Returning Users
2% New Users
0.07% of Sessions
Display traffic has one of the highest average bounce rates, sitting at around 77%.
Email Traffic is from users who received your email campaigns and clicked on any link within the email that directed them back to your website. Email Traffic is often one of the lowest traffic directors, mainly due to the reason that many users do not open emails, read them, or interact with them in any way unless the email is personalized to themselves specifically.
0.4% Returning Users
0.3% New Users
0.3% of Sessions
Bounce Rate is on average around 60% but can range from 10% to 100% depending on the type of email campaign.
While all traffic sources have their purposes and benefits, the two that often carry the largest impact on your sites traffic are Direct Traffic and Organic Traffic. Generally, your Organic Traffic should outweigh (even by a small amount) Direct Traffic. If traffic is only coming from users directly typing in your websites URL it may mean that your website is not properly optimized on search, meaning it may be more convenient for users to memorize your URL than to have to search and scroll to find the proper site. Other, Paid Search, Social, Display, and Email traffic may not have a major direct impact on your website visits, but they are major players in marketing your brand. These traffic sources are ways that your brand can connect more directly with your consumer without them even going to your site.

*This article is based on Pannos Marketing's 2021 Acquisition Trends Per Channel Benchmark Report. Data used within this report calculates results from over 50 financial institutions.
Download the benchmark infographic here!