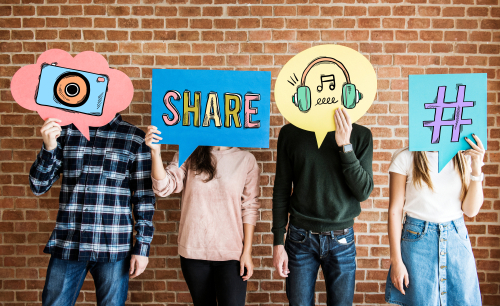 January 19, 2021
Chances are that by now your financial institution has been active in the social media world for quite some time. But, what does that activity look like, exactly? You may think your social media content is eye-catching, informative and overall solid, however, your page isn't succeeding. Why is that?
You hear it every time you set out to achieve a new goal, "consistency is key." The same holds true when building a successful brand presence on social media platforms. Regardless of how attractive your content is, the posting cadence of content needs to be consistent for your page to be successful.
Why Consistency is Important
It's important to understand that social media platforms operate off algorithms. Facebook, Instagram and Twitter feeds will all showcase content from accounts that the user actively engages with as well as content that best fits the interest of the user's online behavior. In fact, these social platforms will limit your views on users' feeds if you're not actively posting and receiving engagement with your content.
Look at it like this, you only go to soccer practice once this week before your Saturday game, your coach only plays you for a few minutes in the second half. The same goes for social media, if you're not showing up for your teammates (followers) consistently, then you're not going to be rewarded with playing time (Newsfeed placement). Now, if you go to practice every day before Saturday's game, come game day you will likely get to play most of the game. More simply put, if you put in the time, show up, and are consistent, your social media content will perform better - in turn increasing brand awareness for your bank.
As a pillar in your community, the perception your followers - aka your customers, have of you is important. For banks, a presence on a social media platform is a great opportunity to demonstrate your commitment to the community and all that you have to offer. If you're not posting consistently on social media, the perception may be that you aren't dedicated to your followers or that you have nothing to offer, making it apparent that there's no benefit for them to follow your account. Social media offers businesses the opportunity to control the narrative. With quality content and a consistent posting cadence, you'll engage a loyal and supportive audience.
Tips for Posting Consistently on Social Media
First and foremost, it's important that you're on the best platform(s) for your bank. Consider your customer demographics, are you more likely to reach them on Facebook, LinkedIn, Twitter or Instagram? Also coming into play in this decision is the type of content your bank is comfortable posting. Certain types of content perform better on different platforms.
Going back to number one on the list, let's figure out what kind of content you want to post. By setting a clear vision of the type of content your bank would like to post it will make curating content that much easier. You may want to focus on more educational content, like tips and tricks, or sharing articles from a third-party. Or, your account may focus on community and local events. It could even be a combination. The type of content you choose to include in your social media strategy is fully up to you, though you may want to dabble in a mix of everything and learn which performs the best.
Developing a monthly content calendar is a great tool to institute a consistent cadence for posting. This will help you determine the frequency of posts and set realistic goals for your content. With that said, it's important to note that this doesn't mean you're married to the posts in your content calendar. If you are planning to post on Friday about a checking promotion the bank is running, but you also just found out that a beloved branch employee is retiring at the end of the week, it might best to save the original post for a later date and post about the bank employee that is retiring.
Okay, so now you're posting consistently, your followers are loving your content and engaging regularly. It's important that you are also engaging back with your followers. It may be hard to keep up with replies to every comment that comes in on popular posts, but engaging back can be as simple as liking a positive comment made to your bank's post. Now, if you're receiving any type of negative feedback on your social account, it's important that you're responding in a timely and thoughtful manner. But, that's a whole other conversation for a different day.
Last but certainly not least, get your staff involved! You may be thinking, "Yeah, right!" but trust me, it doesn't have to be a tall ask. Even those that are camera shy can make a big difference with the smallest effort. Simply encourage your staff to keep their eyes peeled for exciting things happening at the branches, whether it's a customer visiting with their new puppy or the whole crew decided to dress up to support a charitable organization.
Unfortunately, there's no one right answer for how much to post, when to post, and what to post. The world of social media is truly one of its own. But if you can work hard to maintain a consistent presence with your followers, you'll be on your way to building a loyal following and a brand that speaks volumes to your local communities.