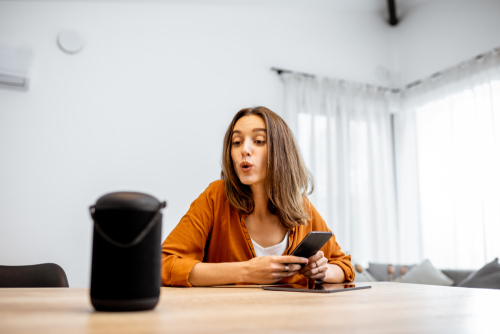 September 1, 2020
In October 2011, the world was introduced to a revolutionary piece of software: a personal assistant integrated into mobile devices that could be used to procure information from the web by simply asking a question directed toward the personal assistant. e.g. "Siri, what's the weather going to be like today in Manchester, NH?"
Fast forward to 2020, and the evolution of voice search and voice command technology hasn't quite lived up to the expectation that was anticipated almost a decade prior.
In a study of 1,000 adults in the US, Perficient Digital analyzed the use of voice search and smart devices, and the results may not be what you expect. Let's start with the two charts below:
In the first, we can see that "Use Voice Search" comes in fourth when asked "How Are You Most Likely to Ask Questions on Your Smartphone". In the second we can see beyond smartphones to smart speakers and see that almost 35% of people answered "Never" to "How often do you use a smart speaker to search for information?".
So why is usage falling so far short of what was expected? For starters, according to the Perficient Digital survey, many users are frustrated when they receive an inaccurate, indirect or unclear answer to their request, with "over 41% replying that incorrect answers will lower their usage" of voice search. This speaks a bit to the nature of voice search versus typed search. When typing a search query, recommended queries populate to help you get to your answer faster, and that is not possible with voice search. In addition, there are still limitations on how and where voice search results pull from, meaning that the results are not always as accurate as a typed query. For example, when searching for restaurants near me using voice search, the top results include a Wendy's 3.6 miles away, but not the locally-owned Italian restaurant that's a mere 3 blocks from me.
The early boom of voice commands rode a wave of excitement for some time, but in 2020 users expect the best, and with the buzz of this technology fading, it's time for voice commands to step up their game. Fortunately, big-name companies like Apple, Amazon and Google hear users loud and clear, with rumors swirling that Siri may get her first major update with the release of the iPhone 12 this fall. Additionally, apps such as Snapchat, which encapsulates over 80 million Americans along with 230 million users around the globe each day, announced in June 2020 that they have launched their own voice search software to sort out their popular plethora of augmented reality lenses. Bringing voice command to primarily a younger audience could prove beneficial for the future of voice search software.
The takeaway here should be, yes, there is potential and voice search is not doomed, especially with Generation Z and generations to follow. That also means that it's not something to ignore and hope it goes away, but it doesn't have to be the primary focus of your marketing efforts. Now is the time to get ready for its inevitable resurgence or potential future boom. As we've seen in past trends, once-popular things can make a comeback - we hope this doesn't hold true for mullets - but we're here for you, Voice Search. But, without considerable strides toward improvement, it may become a thing of the past, just like the beeper, a stepping stone to the next major tech breakthrough.