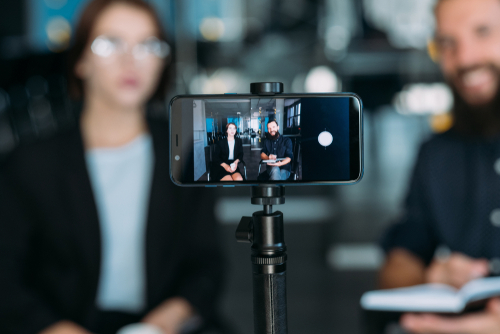 July 13, 2020
Social media videos generate 1200% more traffic than images and text combined. We know that is such a high percentage that it sounds fake, but rest assured it's not.
Video is a powerful marketing tool that can help to drive engagement and interaction with your audience. Not to mention, it will allow you to truly convey your brand story in a moving way (see what I did there?). So why aren't more community FI's leveraging this powerful tool? Simply put, it's daunting.
Before the excitement of posting your video and watching the views and "likes" roll in, you first must tackle the creation of the video. That's where the challenge lies. The prospect of filming and editing can seem overwhelming and costly, but it doesn't have to be that way! There's a solid chance that you're reading this blog on your phone, and that means you have most of the technology needed to produce a video already in your hands. The camera on most smartphones is more than capable of capturing the quality footage needed to develop videos for your social media channels. With a few simple add-ons, such as a tripod and a microphone, you'll be producing quality videos that will be sure to impress.
Of course, you still have to clear the hurdle of editing and creating the final product, but that's where we come in! To help you breakdown all the barriers to leveraging this powerful tool, we've developed the Pannos Smart Video Toolkit. It comes with all the equipment you need (smartphone not included) and our expert advice and editing capabilities. Interested in learning more? Click here.